Established 1880
"We Are Not Programmed But Governed By The Holy Spirit"
ABOUT OUR CHURCH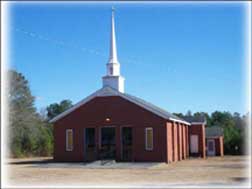 Betholite Missionary Baptist Church was organized in 1880.The late Rev. Joe Albert Mainor, whose father was Rev. George Davis, was instrumental in helping to establish it. There was an old farm house located on the land. The house had one large room with a roof that leaked, but it gave the community somewhere to come together and worship. The seats were homemade and were called benches.
After organizing, they selected George W. Davis, James Tate, and Toomer Johnson as trustees. The trustees contacted William Brice and his wife Margaret about the use of one acre of land for Betholite Missionary Baptist Church. The Brices agreed to deed the property to be used by the black race as a place of worship. If at any time the property failed to be used as a church, it would revert back to the Brice Family. The deed was made on the thirteenth day of July, 1880. It was signed, sealed and delivered in the presence of witnesses J.E. Brice, Toomer Johnson, William Brice and Margaret Brice. The price paid for the land was $8.00.
The first officers of the church were Pastor-Rev. John Fennell; Trustees-George W. Davis, James Tate and Toomer Johnson; Deacons-Robert (Bob) Robinson, Henry Ashley Johnson, Swanhill Newkirk, and Joe Buffalo; Secretary-Timothy Newkirk.
As time progressed, other ministers served the church as pastor. They were Rev. E. Tate, Rev. Henry Moore, Rev. George Davis, Rev. I.M. Powers, Rev. William Randolph Sutton, Rev. M.R. Robinson, Rev. A.H. Dixon, Rev. Joe William, Rev. S.M. White, Rev. E.H. Stevenson, Rev. James Hansley, Rev. Robert Lee Henry, and presently; Dr. Kevin Lee Allen, Sr.
Associate Pastors were Rev. Isaac Johnson, Rev. Alfred Sharpless and Rev. Larry Hooks. Associate Ministers are Rev. Dudley Hooks, Minister Edward Jones Jr., Minister Jennifer Jones, Minister Janell Brown, Rev. Mary Grace Jones, Minister Lorretta Edmonds, and Rev. Leroy Mathis.
The next group of deacons was Robert Mathis, John Johnson, Joe Mathis, John Henry Newkirk and Raleigh Lane. Secretaries were Sister Rosetta Carlton, Brother Columbus Newkirk and Sister Lillie Savage. Brother Columbus Newkirk also served as superintendent of the Sunday School.
Other deacons include George Henry Newkirk, Thomas Johnson, John T. Johnson, Robert D. Hooks, Robert L. Allen, and presently-Manfred Savage, Edward Jones Sr., Kelvin Brown, Michael Hooks, and David Judge. Other secretaries included Lillian M. Farrior, Cleo Lane, Susie Jacob, Patricia Turner, and presently-Andrea Judge/Tamara Hall.
Financial secretaries included Clara P. Mathis, Cleo Lane, Myrtle Lawhorne, and presently-Katie Faison/Gina Allen. Other trustees-Earl Newkirk, Wesley Carter, and Andre Walker and junior trustee Jeremiah Barnette.
Church Links
Announcements
Cheap Lebron Shoes
Kobe Bryant Shoes
lebron 11